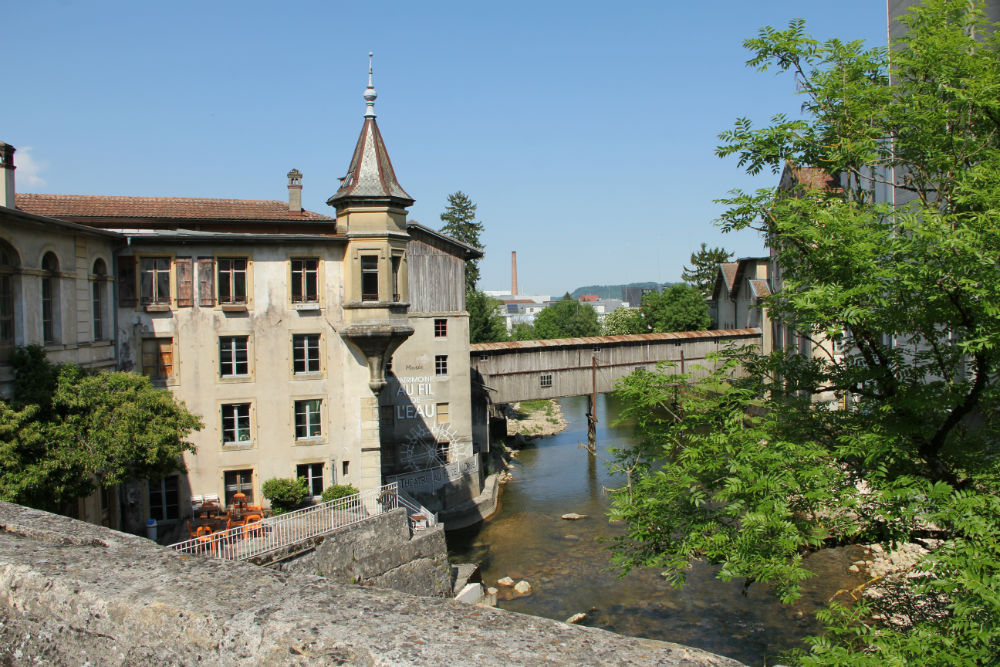 There are a few attractions to visit in Orbe: the roman mosaics; the Patrimoine au fil de l'eau, perched on a picturesque site presents exhibitions on old mills and on the theme of water; Orbe's museum in rue Centrale. The Tourism Office will have all information required regarding opening times, guided tours and prices.
Walk alongside the Orbe river on the presidents' path.
In summer, why not take a dip in the local lido or have some fun on the crazy golf course.
Chavornay
The Centre for the safeguard and rescue of turtles is open Saturday mornings which is an activity ideal for our younger guests and animal enthusiasts. Clic here
Romainmôtier
The village is famous for its Cluniac Priory. Clic here
Vallorbe
Iron and Railway Museum, Vallorbe's caves. JuraParc which is the only place in Switzerland where you will see bears and wolves living together in harmony, as well as American Bisons. Clic here
For wine aficionado
There are a number of vineyards in the region where you can taste local wines and buy them directly from the producer. (Documentation on opening times and pricing available)Only for our guests: we can offer transport to and/ or from any local vinery on request (prices on demand).
Yverdon
The town and museums: Maison d'ailleurs, Fashion museum. In summer you can enjoy the Neuchâtel lake beach if you like open water or the town lido. The Thermal Pools are open all year round. Boat tour of the « Three Lakes »: Neuchâtel, Bienne and Morat. Clic here
Lausanne
Capital of the Canton of Vaud and Switzerland's fourth city, Lausanne is a shining example of dynamism and openness in terms of economic, cultural, sporting and academic provision. Enjoy beautiful views of the city and its surrounding from the cathedral; loose yourself in the old town or enjoy various restaurants and cafes the city has to offer. There are a number of art museum and the Olympic Museum in Ouchy. Boat tours available on Geneva Lake and why not crossing the lake to neighbouring for a day out in Evian or Yvoire. You can find more information on the tourism office website to see all that the city has to offer.
Region of Vevey- Montreux
The medieval Chillon Castle
Vevey is one of the "Pearls of the Swiss Riviera". Its lakeside location with breathtaking views of the Alpine panorama, its extraordinarily mild climate, the vineyards, numerous excursion destinations in the region and proud paddlewheel steamers on the lake characterise this town by Lake Geneva. It's home to Nestle's Headquarters, the international Food and Beverage Group and it also has a food museum, the Alimentarium.
In nearby Corsier-sur-Vevey you can visit Chaplin's World, museum recently open in the house where Charlie Chaplin lived for the last 25 years of his life until 1977.
Genève
International city headquarters of the Swiss Red Cross, many museums to visit, as well as the old city. clic here
Neighbouring France
The Doubs department offers a variety of places to visit such as the waterfall known as the Saut du Doubs in Villers-le-Lac, the clifftop castle Chateau de Joux or the city of Besançon with the citadel build by Vauban, as well as many opportunities for outdoor activities. Clic here